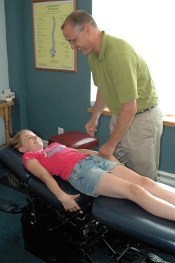 Dr. Alan R. Perestam and his wife, are life long resident of Owego, and are active in the lives of their four kids.
Dr. Perestam began practicing in Owego after graduating from Logan College of Chiropractic in 1989. One of three children raised in a Chiropractic family, Dr. Perestam wanted to continue the tradition started by his father, Dr. John I. Perestam in 1962.
Perestam Chiropractic is dedicated to be a family practice offering care from infants to seniors. Each person's unique cases are addressed on an individual basis tailored by different adjusting techniques such as Applied Kinesiology, Flexion/Distraction, and Diversified. Quality of Life and long-term health are our primary goals. Nutritional concerns and support can be discussed with Dr. Perestam, and further diagnostic testing can be addressed. Additional therapies and techniques are offered at the office to help with any other specific needs.
---